The wiki contains content that may not be suitable for minors and holds spoilers relating to the many routes you can take in the game.
---
This Month's Featured Article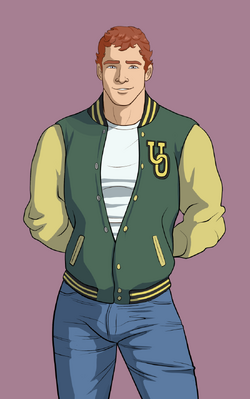 Brad is the quarterback for the Orlin Otters, the Orlin University football team. He has excellent athletic prowess, and he wants to go pro in the NFL once he graduates. However, his grades outside of sports are suffering and he risks losing his athletic scholarship. Read more about Brad-->

Obscurasoft Teases New Project


Coming Out On Top was released December 10th and is currently on version 1.5.0.
The current price is $18.99 USD and can be found at http://obscurasoft.com/. When using a credit card, it shows up as a BMTMicro purchase, so nobody will really know you purchased an adult game.

Current Poll
Besides Coming Out On Top, what is your favorite gay adult game?
Results from the previous poll here